Add Freight Promotion Code
---
Step 1
From Freight Promotion Revisions (PQ67422) setup promotion code information. Enter the following information to setup freight promotion header information:
Freight promotion code

Promotion code description (2 lines of description available)
Freight promotion line type
Promotion unit of measure
Level break accumulation rule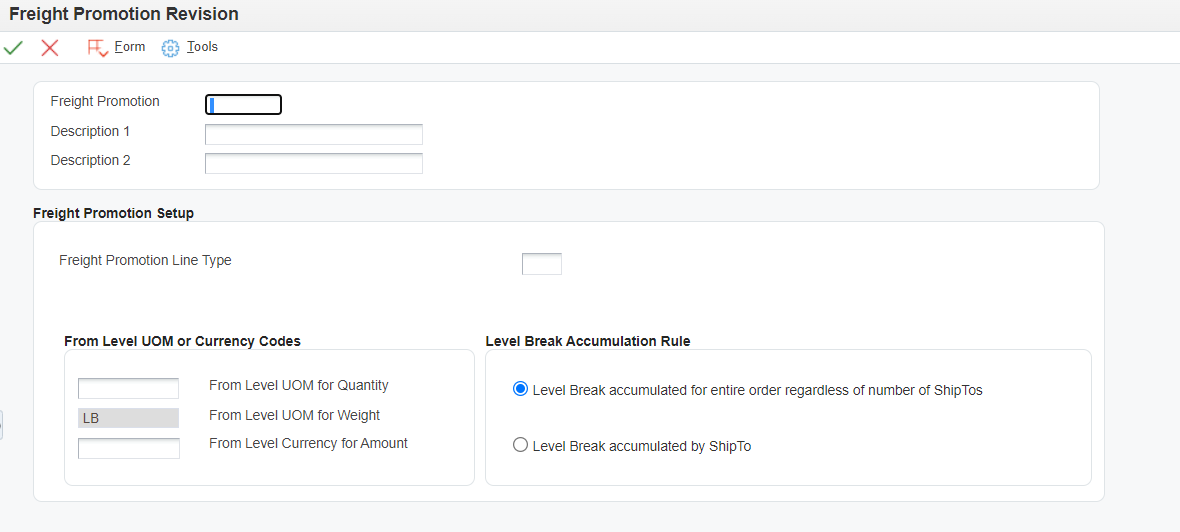 Step 2
Press the Promotion Details action button to select level break for promotion code.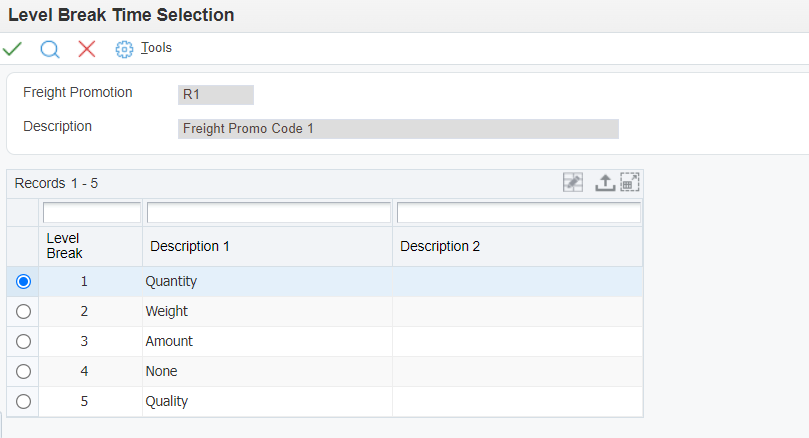 Please note that Level Break 4 and 5 do not apply to freight promotions.
Step3
Next enter discount details of promotion code and press save.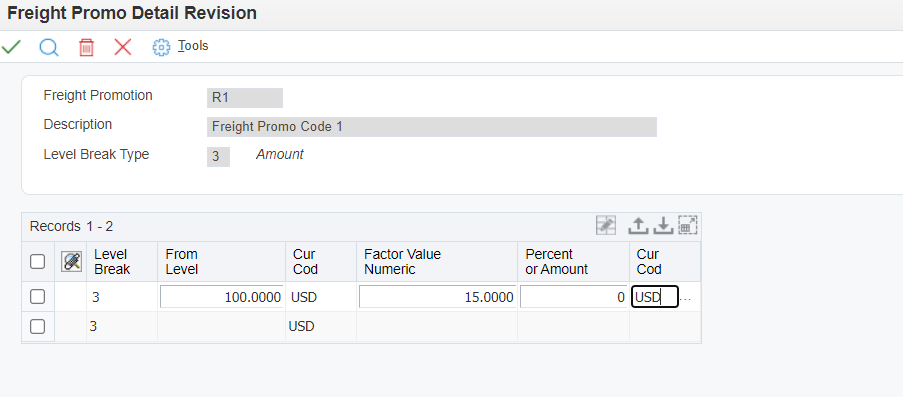 Name
Explanation
Freight Promotion
The freight promotion code field is an 8-position field representing the freight promotion you wish to offer.
Description
The description fields provide a mechanism to describe the promotion. There are two lines of description available.
Freight Promotion Line Type
The line type that will be used for the line detail added in the sales order upon application of this freight promotion.
From Level UOM or Currency Code
The unit of measure or currency code to which the promotion code applies. You may select the UOM for the quantity or the currency code for the amount. The UOM for weight defaults in as pounds (LB) as that is the only measure supported.
Level Break Accumulation Rule
Determines whether promotion code level break will apply by ship-to address in the order or for the entire order regardless of ship-to address.
Level Break

Level break that will apply for the freight promotion code. Allowable values are:

Quantity

Weight

Amount

From Level
A number that specifies the value at which the system will apply the freight promotion. The value can be a quantity, weight, or amount, depending on how you have defined level breaks.
Currency Code
A code that identifies the currency to which the system will apply the freight promotion.
Factor Value Numeric
The factor value by which the system will adjust the shipping cost when this freight promotion is applied to an order. Number should be positive.
Percent or Amount

The type of factor to be applied based on the value entered in the Factor Value Numeric (FAV) field

0 - Value entered in FAV is a Percentage

1 – Value entered in FAV is an Amount
This Section Also Contains