Step 3
---
If the Shipping Instructions button was pressed you will now be able to enter shipping instructions for the order.

Changing Freight Information
Changing freight Carrier / Mode of Transportation combination by pressing the Freight button on the Shipping Instructions tab. When pressed you will be shown the current method selected. To choose another method press the Change Freight button. Once pressed you will be presented with other freight options. Highlight the desired row and press select.

Adding Insurance to a Shipment

To add insurance to a shipment select the Freight button and within the freight charge calculation application select the Insurance button. To activate the insurance option on the order check the Insured Y/N check box.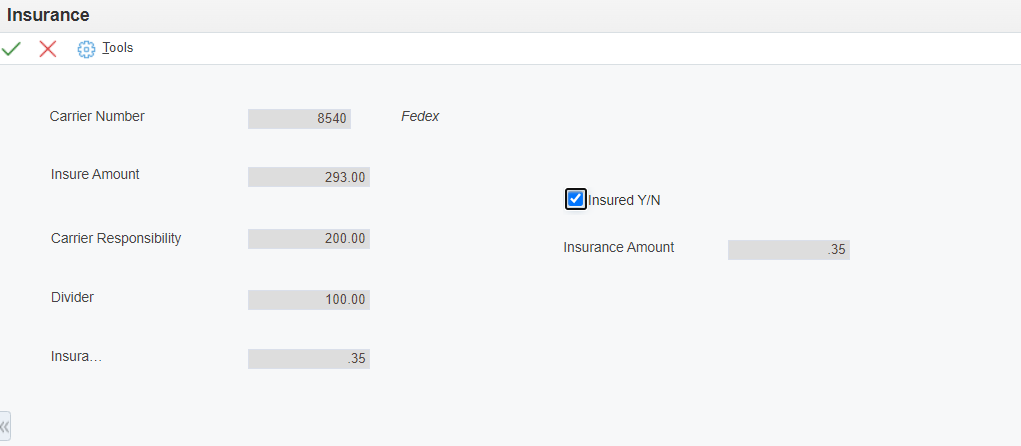 Once Step 3 is complete press the End Order button to proceed to Step 4 in the process which is entering payment information.

| Name | Explanation |
| --- | --- |
| Print Message | A user defined code print message. Examples of text used in messages are hours of operation during holiday periods and special delivery instructions. |
| Warehouse Instructions | A field to enter specific warehouse instructions regarding this order. Instructions are stored in order header tag file. |
| Shipping Instructions | Fields used to enter delivery instructions. |
| Will Call/Pickup | By activating this field it allows you to designate the order as a pick-up order. The system will prompt user for pick-up location information. Will Call / Pick-Up is an order level flag. Once activated the freight cost to the customer and the internal freight cost are set to zero. |
| Ship On Customer Account | By activating this field it allows you to record the customer's parcel shipment account number corresponding to the Carrier selected. Ship on Customer Account is an order level flag. Once activated the freight cost to the customer and the internal freight cost are set to zero. |
| Freight Button | Allows you to select a different Carrier / Mode of Transportation combination as allowed within the Freight Management tables. |
Read Next
This Section Also Contains