Step 2
---
Now, enter the detail lines for the sales order. Once all details lines have been added you can either press the Shipping Instructions button to enter shipping related information or press End Order to proceed to the Payments tab.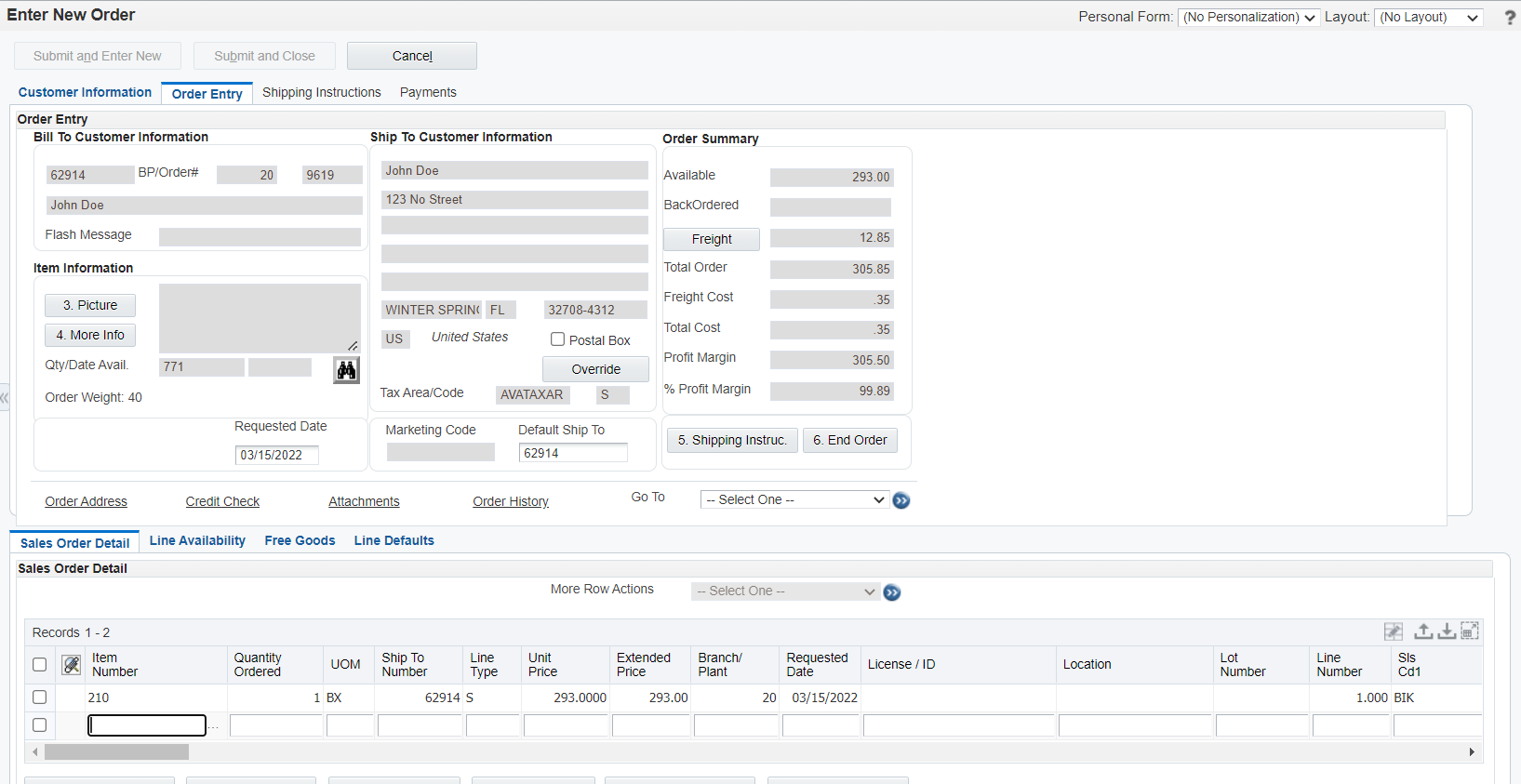 Name
Explanation
Order Summary
A running order summary as each order detail line is processed.
Ship To Customer
Current order detail line ship to address information.
Override Button
Allows user to override the ship to address information for this order. Override ship to address will apply to entire order.
Flash Message

A user defined code (00/CM) that displays information about a customer. Examples:

1 Over credit limit or 2 Requires purchase order

Picture Button
Display item image attachment. Set focus on an order detail line for image to display.
More Button
Display item text attachment. Set focus on an order detail line for text to display.
Freight Button
Allows you to select a different Carrier / Mode of Transportation combination as allowed within the Freight Management tables. See below.
Qty/Date Available
Item quantity available for sale within the selected business unit. If the item is in backorder, the date displayed is based on supply/demand rules.
Order Weight
A running order weight total as each order detail line is processed.
Marketing Code
A 30-position field representing the event you wish to track. Refer to Marketing Code guide for setup of marketing codes.
Default Ship To
The default ship to address number for new order detail lines being added.
Line Availability Tab
Displays summary availability for an item.
Free Goods Tab
Displays any free good associated to the order.
Line Defaults Tab
Allows you to enter data that will default into any grid item added.
Check Availability Button
Displays availability for the grid row selected.
Cancel Line Button
Cancels the grid row selected.
Check Price
Allows you to check what the price of an item would be given specific parameters.
Price History
Shows how the price was calculated for the grid row selected.
Kit/Configurator
Shows kit items associated to the grid row selected where you can choose which components are wanted.
Cross Reference
Displays cross reference items for the grid row selected. Selected items will be entered into the grid.
Read Next
This Section Also Contains