Step 1
---
Step 1
Select a customer/consumer. Once customer/consumer is selected various data fields will populate. If you need to add or change information regarding the customer/consumer selected you may press the Add/Change Customer Information button. You may also edit the sales order header by pressing the Edit Full Header button. Once the customer/consumer has been selected press Customer Info is OK.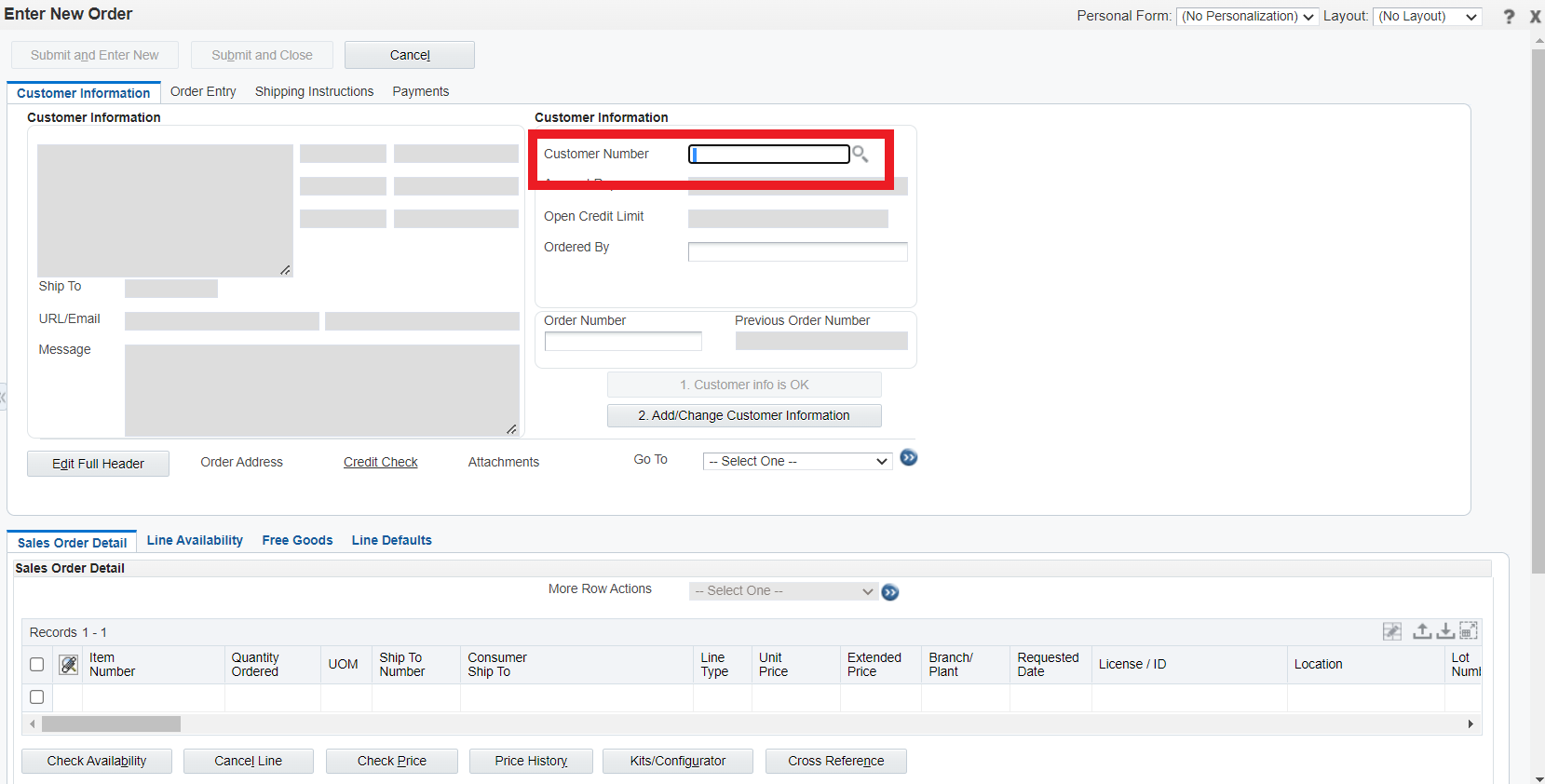 Name
Explanation
Customer Number

Rapid retrieval of a customer number. Search of customer number can be executed by placing any of the following and tabbing out of the field:

Company bill-to name

Company ship-to name


Company contact name


Phone number (for phone number searches the number must be preceded by the # (hash mark) symbol)


Postal code (for postal code searches the code must be preceded by the / (slash) symbol)


Long address book number (for long address book number searches the number must be preceded by the * (asterisk) symbol)


Email (for email searches the email must be preceded by the @ (at sign) symbol)


Ordered By
Person placing order on behalf of customer
Ship To
Allowed ship to addresses based on parent/child relationships established by customer. Refer to address master related address tab.
Open Credit Limit

Variable field dependent on processing option.

Balance display options are:

0 or Blank = Do NOT Display

1 = Display Open A/R Balance

2 = Display Open A/R Only if Credit Balance

3 = Display Open Credit Limit

Customer Information
Bill-to full address.
Telephone Number Display
Variable fields depend on processing options #1, #2 and #3 within the ESOM tab.
URL/Email
The e-mail address or Uniform Resource Locator (URL) for either an individual or an entity.
Flash Message

A user defined code (00/CM) that displays information about a customer. Examples:

1.Over credit limit

2.Requires purchase order

Message
Additional text attachment to the customer address book record.
Read Next
This Section Also Contains